Castles and Tower Houses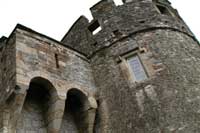 As you've no doubt gathered from my other travelogues and the notes here, I'm fascinated with castles. Ireland is a castle-hunter's dream destination: thousands of medieval castles and later tower houses are found across every county in Ireland. Some are lovely show-pieces, carefully restored and populated as museums, some are grand country houses for the rich and famous. More are in various states of ruin -- some no more than a spare rock wall in the middle of a field or a few feet of stone incorporated into a farm building.
We spent most of our days driving around the backroads and stopping whenever we sighted "something that might have been a castle!" and following the dots on the maps (see the travelogue for an explanation of the dots, it's too embarassing to repeat!).
Many of these site are not accessible to tourists (they are on private land) and so we had to be happy with pictures taken from the roadside in many cases. If you can find smeone to ask, it is usually ok to cross their land to see the ruins, although there are some landowners who do not want people wandering through and possibly being injured on the crumbling ruins. Always respect the landowners rights regarding access and do not trespass on private land.
Ireland has a national historic trust organization, called Duchas, which manages many of the larger castles (such as Blarney, Trim, Caher, Carlow, etc). THese are detailed in the maps and guidebooks availble from Duchas at any of their sites. A few others (Bunratty, for example) are privately owned and open to the public.
Perhaps the best reference to Irish castles that I have found (and the books that I carried with me everywhere) are a series of gazetteers by Mike Salter of Folly Publications. He details nearly every single interesting castle ruin in Ireland and in most cases, notes their location by Irish Grid mapping coordinates.
You can also view the castle list by county
adare • ardcroney • ardintenant • ardrahan • athenry• athlone • athlumnley
augnanure • aughnanure
balleycarbery • ballinamore • ballingroher • ballinskellig • ballintogher • ballycapple
ballygally • ballyherbery • ballymackey • ballymaquiff • ballymoone • ballynahivna
balrath • balyvoghan • barberstown • barbican • barryscourt • bawn • birr
blarney • black • black (wicklow) • bunratty
caherdangan • cahir • carlow • carrickfergus • causetown • clane • clogharevaun
cloghballymore • clohaskin • clonmacnoise • clonony • cloughjordan
coppinger's court • cushenden
delvin • donegal • doolin • doon • dough • dough (2) • drumcondra • drumharsna
drumnahane • dublin • dunbeacon • dunbrody • dunguaire • dunluce
dunmanus • dunmore • dunseverick • dysert
galarus • glenarm • glenbeigh • glin • gloghkeating • golden • greencastle • greefort
kealkill • kilchurch • kilduff • killbrittain • kilwaughter • kinbane • king johns • kinnity
leamanagh • leap • lehinch • leighlinbridge
malahide • matrix • maynooth • mellifont • moyry
nenagh • newinn • newtown • nr. Dysert • nr. Golden
o'brien's tower • olderfleet • oranmore
raheen • rath • rathmore • rathsinane • reginald • rennadisert • roo
roscrea • ross • rossbrin
seefin • shanid • skibbereen • slane • st. clerans • syonan
templehouse • trmblestown • trim • tyrellspass