I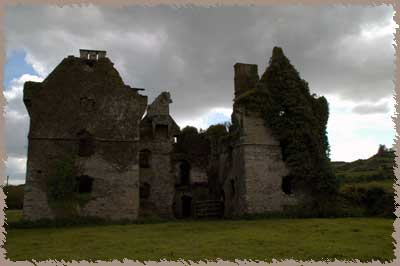 main facade of the building, showing the two square tower blocks
Coppinger's court was built by Sir Walter Coppinger in the early 17th century. The rumor is that he acquired the property by assuming the mortgage (he was a well-known moneylender).. His estates were repossessed by King James in 1616 They were returned to him the next day. . It was Coppingers intention to build a town on the site of this manor house, but in the 1641 Rebellion the house was ransacked and burned (possibly by a servant when the master had not yet returned to the estate).

The ruins are in reasonable condition, considering that they have been abandoned for several centuries. The house is four storeys and has a central house with two fortified square towers on either end. There are still many turrets on the southern side and the northwest corner. The house at least nine gables, and below that a bartizan on corbels.
There are many windows in the second story, and the chimney stacks are well preserved. The kitchen was probably in the NE corner of the house, where an oven has been found.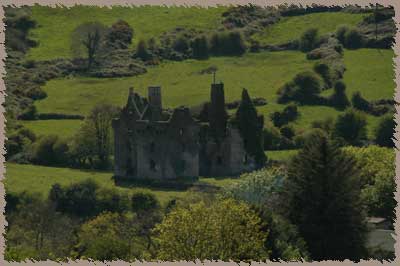 view of the estate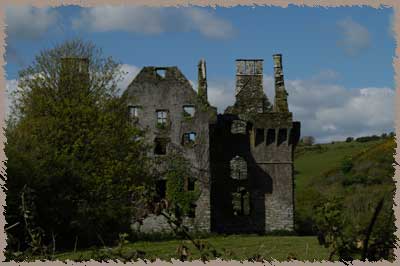 view of the gables and remaining chimneys
page
[ 1 ] [ 2 ]