Travelogue Day 1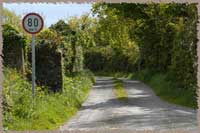 We're off again on vacation, a month in the lovely green-ness of Ireland, driving roughly counter-clockwise around the country and -- as we did in Scotland -- stopping at every pile of rocks by the side of the road looking for castles and neolithic monuments. Why Ireland? Well, we don't have any ancestral ties or anything, but I am fascinated by castles, learning to speak a little Irish, and you've seen those photo books, haven't you? The place is gorgeous! Since I wasn't able to convince Mark to go back to Scotland, this was the next place on the list. After six months or more of planning, we are off.
I am always vaguely annoyed when checking out itineraries online: "Twelve days in Sunny Italy", or "Five days in London." Well, not really, if you check the fine print. If you have to fly from the US/Canada to Europe, the first and last day of your trip are travel days. That twelve days in Italy? Ten days. That five day trip to London? Make that a long weekend bracketed by interminable airline flights. I understand the intent, of course; as long as everyone uses the same scheme, you can at least compare things. But it always gives me a bit of a laugh to read: Day One: Arrive on every single itinerary I looked at for planning purposes.
As usual, though, we aren't doing a tour at all. I just looked at the given itineraries to see if there was any discernable pattern that we could either a) follow, to see the the major stuff, or (more likely) b) avoid like the plague. We really dislike fighting the crowds at tourist destinations. Planning our trips during the off season has helped tremendously, and making brief and well-planned forays into the worst of the tourist spots has also helped.
Interminable Flying
And of course, I have to comment up front about my hatred of flying. It's not actually fear of flying (although that is a component) I just hate the cattle-car, bad-food, stale-air, confined-space of it all. People seem to forget the basic niceties of civilization when crammed on a plan (it's more like every-man-for-himself!) and I want to get OFF the plane at about the six-hour mark. Which is a bit inconvenient on a 9 hour flight. We splurged on this trip with the 'coach plus' offering from British Air: more legroom, wider seats. Definitely worthwhile for Mark, who gets awfully squashed in coach seats. And believe me, traveling with Pretzel Boy isn't a lot of fun.
Long flight. I'm glad we got the "plus" seats, though. It's definitely worth it having more leg room (and we got bulkhead seats, too, when i checked in online) and make the trip more bearable. I think I even slept for a few hours with my feet wedged up on the bulkhead table. On the whole, not too uncomfortable.
The flight is a non-stop from Denver, and one of the reasons we fly British Air whenever we can. I've weighed over and over the benefits of doing the trip in two or more shorter flights, but when I compare the 'total travel time' for non-stops vs flying Denver - JFK, then on to London I can't see spending another seven hours in airports. The airport in London (Heathrow) is ENORMOUS, and the walk from terminal 4 where we landed to the busses to the other terminals was about four miles in these weird round corridors. About halfway through I suddenly felt like a gerbil in a HabiTrail (hey, the only thing missing was a giant exercise wheel!), and I'm quite sure we walked in a complete circle. Luckily, the trek was without luggage, as our bags were checked all the way through. I commented to Mark that we really needed to actually STAY in London for a few days sometime instead of just passing through the airport.
It's uncharacteristically hot in London. It was surprising and humid.
The flight on Aer Lingus leaves from some distant and sparsely populated wing of the airport. We had over an hour before the flight was scheduled, but we hadn't thought ahead and had packed most of the British pounds deep in Mark's luggage, and had perhaps 90 pence between the two of us. It was a nice flight, although Aer Lingus follows the disheartening trend of smaller airlines to charge for any food or sodas in coach class. I was so tired I fell asleep and drooled on myself and left a huge spot on my shirt. How embarrassing!
Escaping Dublin
Dublin is a good-sized airport, and we just followed the giant gaggle through the hallways to get our luggage (luggage carts are free!) and then through customs. On to the rental car counters. As before, I went through Auto Europe for the rental car (and ended up with Europcar). I had reserved a small car (something like a Ford Focus) but I had called and made it very clear that while I understood that I couldn't reserve a specific car, my 6'5" husband simply DOES NOT FIT into a Vauxhaul, Opel, or Fiat of any size smaller than a full-size estate car. Mark has Good Travel Karma, and we were upgraded (free) to an intermediate car -- a Passat. With AC. He's tickled pink. We were supposed to get a compact, but Mark can't fit into a Vauxhall - all that was left. The very nice woman behind the counter just upgraded us. Woot! It's very nice - still driving on the left, but at least the car is familiar, even if swapped over. After an unsettling few minutes getting used to being in the opposite side of the car and the opposite side of the road we headed off north of Dublin.
We had printed instructions to get to our B&B, Woodtown House, instructions which I had originally thought overly detailed. I did not realize (although I would become very familiar with the problem)) that road signs simply do not exist in most of Ireland. The instructions, which included things like "you'll come to an intersection, turn right, but not the first right, the second right almost diagonal and be careful of the gate". It took us three tries to get out of the airport loop (the multi-lane road has the destinations written in the lane, and each lane heads off in a different direction. If you don't get in the correct lane early enough, it's nearly impossible to get across. But, a few mistakes were to be expected (jet lagged as we were) as we headed to Athboy and -- two u-turns later -- found the road to the B&B, which is tucked back into the fields along a long, narrow dirt road.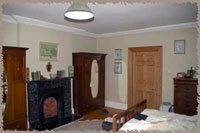 Woodtown House is a lovely B&B, which I discovered on one of the many Irish lodging websites. They were mentioned in a number of guidebooks, and well worth the visit. The huge old house is full of antiques and knickknacks displayed sometimes haphazardly on every single horizontal surface. Old boxes, bottles, fishing lures, books, kitchen appliances, wooden decoys. We travel by the seat of our pants -- no reservations, even less of a plan, in most cases. However, having a specific place to stay for the first few nights, while you're getting your travel-legs, is a good idea. We booked for two days here. Unfortunately, Mrs. Finnegan had to close down the house for a few days in order to deal with family needs, so we couldn't stay for a few extra days. We might have stayed for three or four, to look around the countryside near Dublin.
Woodtown House is absolutely charming, filled with antiques and bric-a-brac and that well-lived-in feeling of a true home. Anne, the owner, is a lovely woman who greeted us with tea, cookies, and maps and seemed genuinely curious about our plans. A couple of german girls traveling round Ireland for a few days also showed up. They headed out for dinner long before we did, but we did manage to stay awake long enough to venture into town for food.
Athboy ("ath-boy", atha-bui, yellow ford) just like it looks) has two large restaurants (and a dozen little shops that sell bakery and sandwiches, etc). The main street of town is only about four blocks long, and lined with a 17th c toll house and the skeleton of town walls incorporated into the newer buildings. We had dinner in the "fancy" restaurant in town, the Inn Moderation (which has a nice steakhouse restaurant attached, Tighe's). As usual, the first trip out for food is always very nerve-wracking for me. I am never sure of the rules -- wait for a table? Just grab the nearest one? Are the menus stacked over there to be taken? Tipping? No tipping? How do you summon a server? The rules are a bit different every place you go, and no travel book really touches on them consistently. So, I've learned to just ask -- perhaps I am considered a rude American tourist by doing so, but it really does seem to help. Find a friendly looking person and just admit you're confused and don't want to offend.
A few rules we gathered from our first night -- ask at the bar for a table, if you can't immediately see that people are just sitting willy-nilly. They'll direct you to an open table or tell you to snag one yourself. In most restaurants, the server will come and take your order, bring drinks, etc. In pubs, you occasionally go to the bar to order. Do tip, although everyone told us 10% was fine.
We asked the young woman waiting on us about tipping when she was taking our order, and told her she had the chance to make life really nice for other wait-people in Ireland if she told us some outrageous amount (like 40%). She got a good laugh out of it and told us the basics. Needless to say, she got a very good tip! In some places, the server will take your check and be cashier, in others you need to trot up to the bar to be totaled up. Mark had a steak and I had chicken. Both with a side of potatoes..which will come to be funny as we move on, I'm sure.
Luckily, we didn't get lost going back to the B&B (although I took the instructions again, just in case!), and crashed by ten and slept to a perfectly normal morning wake-up time. Odd for us, but jet lag really does mess up your sense of timing for a few days.