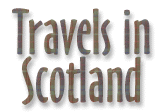 The decision to travel to Scotland was exciting, and the ensuing planning has been an ongoing amusement for my husband. In this section, follow our first attempt at travel planning. Includes tons of links to travel resources and planning tips.

Read the travel journal from our 3-week trip, with histories and pictures of over 70 castles, towers, and abbeys; plus information about over 40 other beautiful sites in Scotland. Or, you can start from our detailed Itinerary, or simply look through all the photographs of Castles and Towers, all the Abbeys and Kirks we visited, or just browse through the photos of the beautiful scenery and other sights all over Scotland.

Online resources, guidebooks, itineraries, lodging guides... tons of information on planning your trip to Scotland. Who to write, what to buy, what to pack, where to go. Here's what I've been using to plan our trip.
There are a lot of pictures on this site

I have tried to keep
each page reasonably
sized, but there are
several hundred photos
of Scotland linked to
this site.

Please be patient
Thanks!