Round Towers
One of the strangest kinds of buildings in Ireland are round towers (cloictheach ) . These tall, narrow stone structures are a bit of a mystery: where they watch towers? Signal towers? Refuge? Depending on which guide book you read or which tour guide you overhear, they are all three. Round towers are normally associated with monasteries and friaries.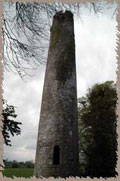 Most of the towers are over a hundred feet tall, and very narrow, and have only four small windows are the very top, facing the cardinal directions. The entrance, a small arched door in most cases, is many feet from the ground -- the towers were accessed by wooden ladders, and the few floors inside were also reached by ladders. It is possible that these could be pulled up after they were climbed, to make the tower secure, but in most cases, this was not likely.
This feature led to the popular idea that they were used as a place of refuge by the monks when the monasteries were attacked. This doesn't make much sense, In an age when Vikings burned and pillaged through Irelandm a round stone tower becomes a very effective round stone chimney when lit on fire, I'm sure. Most likely, they were bell towers or watch towers. Wikipedia notes that the opening on the tower usually faced the western entrance of the church it was attached to, thus making the mapping of a site somewhat easier.
There are about 120 round towers still standing in Ireland with only two dozen or so in good condition.
Cashel • Clonmacnoise • Cloyne • Donaghmore • Dysert O'Dea
Glendalough • Kells • Kilree • Lusk • Monasterboise
A 'modern" version of a round tower exists at Waterloo, near Blarney Castle.
I haven't linked to some of the round towers in this loop, since they are part of a much larger site and handled on the main page for that site.Sorry about the confusion.