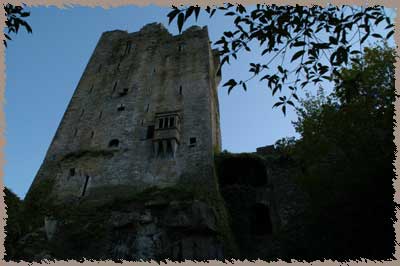 looking up from the terrace at the tower house
If you go to Ireland, nearly everyone ends up here to kiss the Blarney Stone, it seems to be almost required! We stayed in Blarney for two days, and visited the castle and grounds for a long afternoon.

The enormous tower here has a stone with the date of 1446 and the name Cormac Laidir MacCarthy on it, but this is probably a much later fabrication. The stone was likely added during remodelling by Donal MacCarthy in the 1590s - he is the man credited with the gift of gab, who tried to talk his way out of his problems -- and whom Queen Elizabeth dismissed, calling his meaningless words, 'all Blarney!". At least, that't she legend. The stone is one of the lintel stones around the top of the tower and leaning over to kiss it requires levering yourself out over the edge of the castle. (Why oh, why wasn't the stone at ground level, eh?)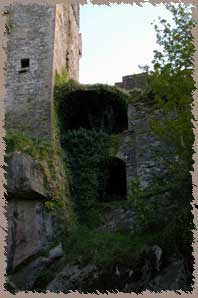 the oldest remaining corner tower / filled-in wall from the bawn
In any case, the tower here is the third castle to stand on the ground. It was first a wooden castle from the 10th century, replaced by a 13th century stone fortress. The stone tower was completely destroyed and the third castle was built on its foundations by Dermor McCarthy, King of Munster. This leads to another part of the legend: the King of Munster provided a thousand men to Robert the Bruce at Bannockburn, and the new king gave have the Stone of Scone to McCarthy, and it was incorporated into the battlements of Blarney Castle as the Blarney stone.
Eventually, Cromwell defeated the castle (by cannonfire from the nearby hill), but when they entered the castle, all inside had fled tot he maze of caves underneath the tower. From the caves, everyone escaped to Kerry, Cork, or out tothe nearby lake, along with all the treasures in the castle. This reputed treasure also drove the next owner of the estate to try to drain the lake, where the gold plate from the treasury was supposed to have been thrown.This was obviously false, and he lost his entire fortune in the search, so the estates were forfeit and eventually sold to the Governor of Cork, James St. John Jefferys, in 1688. Jefferyes added a new east block to the castle, rising from the lower levels and built upon the foundations of a ruined house.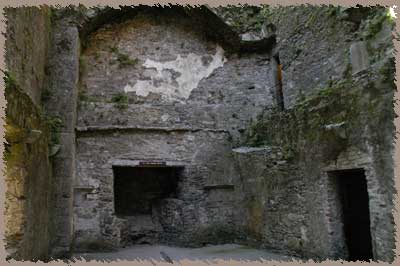 fireplace niches, and the arched roof of the main chamber (two floors)