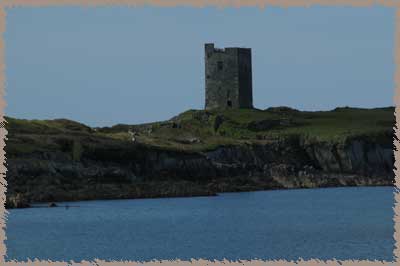 black castle, now someone's "summer home"

There are a lot of castles that are, or once were, called Black Castle. This site is on a promontory into Toormore Bay (reached by a concrete bridge). It is an O'Mahoney tower house. It is also known as Leacon castle.
The castle was surrendered in 1602 to Roger Harvey, and burnt in 1641 to prevent the Mahoney's from retaking it. The tower is supposedly a summer residence now,having been restored/remodelled to modern standards. We came up on the wrong side of the bay, and didn't realize we could drive out to the castle itself.