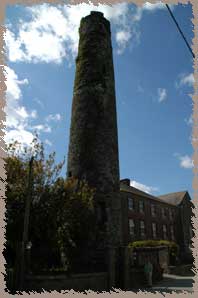 Cloyne tower stands inthe middle of town, although behind a well-fastened gate. There is a note to ask someone for the key, but we've had absolutely no luck finding the 'cathedral house'. (Seriously -- there should be maps!) It has fallen into disrepair in recent years and a note ate Round Towers.org says that you can no longer climb the tower.
The main draw in Cloyne is the 13th century Cathedral, but it's hard to miss the hundred high tower. It was sited here in the 11th century on the site of a monastery that has long since been absorbed into the Cathedral grounds.
The monastery of St. Colman was founded here inthe sixth century, and continued to be important through medieval times. The See of Cloyne controlled much of Limerick as well a the nearby villages.
The tower is oddly shaped, and tapers only slightly to the top. The crenelations (the tooth-like projections) are a much later addition. They were added in 1683 after lightening blew off the conical roof. It has been used a a belfrey since the 17th century. There are nine windows (usually towers have only four, facing the cardinal directions).