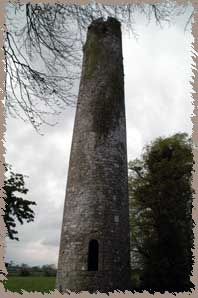 Just south of the town of Kells is another round tower in a churchyard in Kiree. Like the tower at Kells, this is also build into the wall around the churchyard. The whole churchyard is being eaten by trees and vegatation, and the tower is no exception - the upper windows are ivied.
There is no roof on this tower, although ti does rise to its full height., It looks like later restorers changed the top of the tower to have battlements (machicolations). The foundation is slightly squared.
It's likely that there was a monastery here, although no remains exist. The lands here would have been part of the establishment at Kells., but the tower probably dates to the 9th century
There is a large sandstone cross in the churchyard as well.