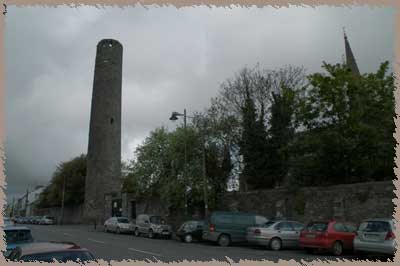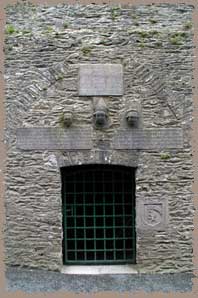 The churchyard in the middle of Kells has not only this round tower, but a number of high crosses within the tall walls. However, the wall actually incorporates the tower -- the doorway is inside the churchyard, but the rest of the tower is outside (and extends down to street level. Obivously, the wall was added later and the ground level of the churchyard is much higher than it was originally. THe doorway seems quite low, which would not have been true when the tower was built.

Another unusual feature of this tower is that there are FIVE windows at the top, not the usual four. Instead of facing the four cardinal directions, these windows supposedly track the five roads that converge in Kells. Also, while the doorway has a full-depth stone coping, the keystone appears to never have been decorated, and only one of the side-decorations appears finished (although it's hard to tell - things are weathered so much that they look smooth. It is unknown exactly when the tower was built, although it is probably that is dates prior to 1076, for in that year Murchadh Mac Flainn, who was claiming the High Kingship of Ireland, was murdered in the tower.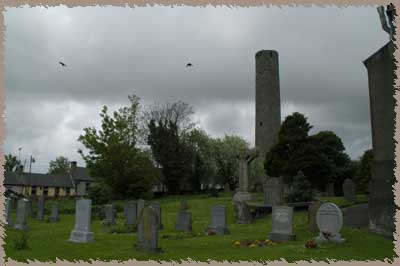 The monastery here was founded in 804AD on an earlier religious site. The famous Book fo Kells was not actually written ehre -- it was written by monks on Iona and brought here when the abbey was founded. The monks fled Iona after many years of attacks by Vikings.