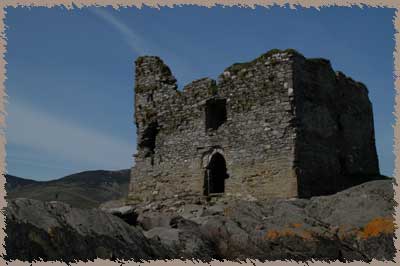 south-east wall, with the arched doorway

We walked along the beach to see this small castle - and despite the fact that the water was frigid, there were actually people swimming.
Ths is another MaCarthy tower from the 16th century. It has two unvaulted stories over a basement and probably never stood any taller. The rounded doorway leads into a large entry lobby, but nothing remains of the inside rooms. The stairway only goes tothe second floor.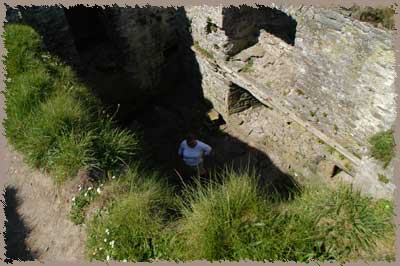 looking down into the main floor from the wall walk
There is a nearby abbey (although we didn't visit) and it's likely that the castle was part of a string of castles along the coast built to protect against pirates. Excavations in the 1980s and 90s to clear out the ground floor and shore up the castle after serious erosion of the rocky beach had in-filled most of the first floor. It's easy to see the rocky promontory under the castle, but it has been eroaded away. The same excavations discovered the possible foundations of a wooden building outside the walls and many pieces of pottery and bottles.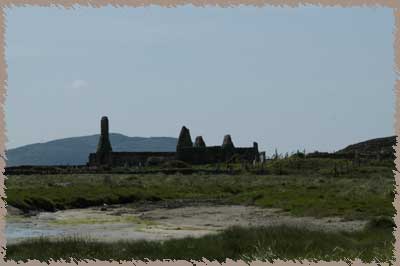 the scant remains of ballinskellig abbey nearby
page
[ 1 ] [ 2 ]