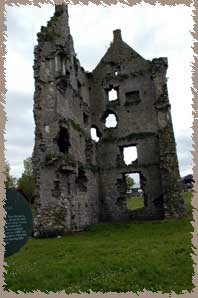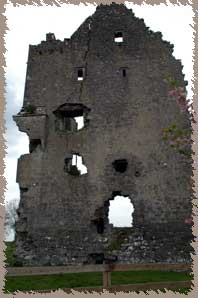 two views of the thin walls of the tower house
The tower her was mentioned in 1583, when Moriery Mergagh (MacBrian) was killed here during a rebellion - the tower was likely built earlier in the 16th century. The tower was owned by the Hurley family from 1617 to the 1660s, until they were forced out by Cromwell, after which it passed into a charity trust and was lived in by tenants.

It was destroyed in 1688, during the Jacobite war and was left in ruin after that time. The current ruin shows a four-story tower house with unvaulted rooms and a steep attic.A square bartizan on the southwest corner has an atitional third story.