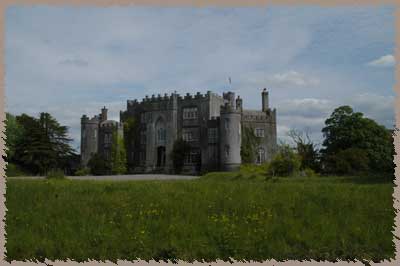 view of birr castle from the parklands

The original castle on this site was known as Black Castle (not to be confused with the half-dozen other Black Castles, of course). The first mention of it was in 1208, when it was besieged and burnt to the ground. It was rebuilt in 1214 by the English, but once again burnt (yes, stone burns). After this, it was once again rebuilt and taken over by the O'Carrolls in 1346 and by the 15th century as one of the main castles of that family.It was besieged several times and changed hands throughout the 16th century before finally coming into the hands of the Parson family in 1629.
The Parsons undertood to build a new castle on the site of the old 'Black Castle', long gone. They didn't build on the original motte, but at the gatehouse of the original castle, where they added flankers and rebuilt the tower into the current plan. They rebuilt the castle facing the town, not the parkland-- the castle was intended to be part of the town.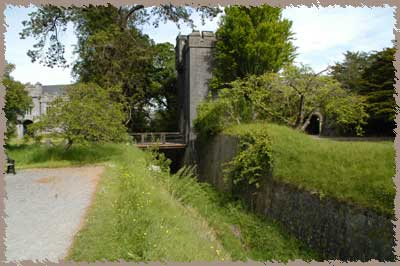 rmains of the ramparts and stone walls of the castle
By 1677, the castle had survived the rebellion, and then rebuilt and refurnished with yew wood, including the enormous staircase.
Of course, by that time, nothing remained of the original tower house, only the gatehouse and a portion of the walls were standing. A service range and some ramparts remained then, but these were almost all eventually demolished in 1778 by Sir William Parsons. Over the next several centuries, the castle was lost and regained by the family several times, repossessed by James II, and then returned to the Parsons family after the battle at Boyne. Eventually, the Parsons were made Earls of Rosse - the family of the seventh Earl still lives inthe castle.

the old stableyard, now the Scientific museum
The second Earl is responsible for the gothic style of the current castle in the 1800s.