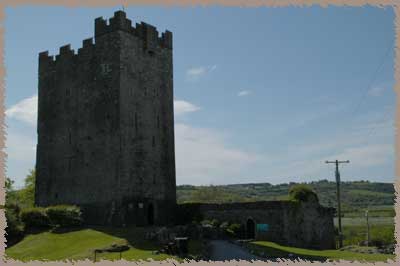 the 15th century tower at Dysert O'Dea
This is the towerhouse at Dysert O'Dea (as opposed to a much smaller ruined Dysert castle in Limerick. This tower is part of a larger complex of sites (a round tower, a couple of churches, a high cross).

The tower is in impeccable condition, and inside are several floors restored rooms and artifacts. It's quite interesting. The castle itself was built between 1470 and 1480 by Diarmid O'Dea, it is the clan stronghold in Clare. it is also the site of a very important battle (The Battle of Dysert O'Dea) which drove the Anglo-Normans from Clare for almost two centuries. The battle took place on the site in 1318, on the site of an earlier fort.
The castle was captured in 1570 by the Earl of Ormond. In the early 17th century it passed to the Neylon family. This castle, like others, was much-damaged by Cromwell's forces in 1651.
The castle was bought by John B O'day in 1968 (he was on holiday and discovered that the castle was for sale). OVer the next fifteen years he restored the castle. There are ten rooms on the four floors, with audio-visual displays, a workshop, andother displays. There are two walking paths on the site that lead to the other ruins, and the docent at the castle has a nice map.