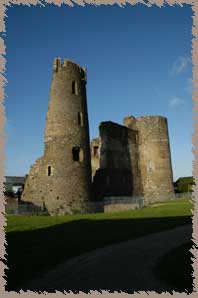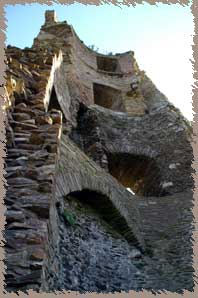 the southern view of Ferns / looking up into the remains of the taller tower

The current ruin at Ferns is a 13th century castle, built by William, Earl Marshall. Only about half the castle remains - one round tower, the stump of another, and part of the originally square curtain wall. The first castle here was probably built by Diarmid MacMurrough, but it was thoroughly destroyed by the O'Rourke's - not even foundations remain from the earlier fort. There may be some evidence for a ringfort dating to the 12th century.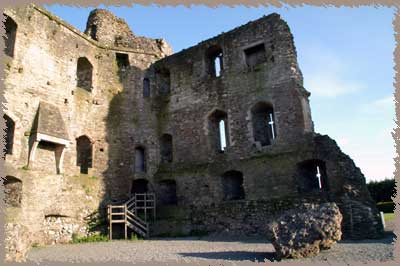 standing inside the courtyard, looking up at the outer walls
The next iteration dates from the 1220s. The castle was not well maintained, however, and it passed between the Irish and English often enough to preclude any consistent building program. It was captured by the O'Tooles in 13231, retaken almost immediately, and taken over by the MacMurroughs in 1360. It was taken over by the English in 1550. The Masterson clan took control in 1583. The last straw was the capture of the castle by Gen. Coote in 1641 and the subsequent dismantling under Cromwell. It was never rebuilt.
The upper windows in the main part of the castle suggest a mid-13th century date, when the town was held by Willim de Valance, married to a Marshall heiress. Another interesting note is that the building itself was far to large to have have floors spanning the entire distance - it had to have several small ranges inside the wall and probably had a courtyard in the middle that let in light. It was not necessary a single large square building - architectural techniques at the time really preclude having large "office building" type structures. The outer walls, being thick stone, survived longer than either thin stone interior walls or wood-framed bays.

a nicely carved fireplace on the second storey
One of the towers has a round chapel (decorated with eight heads) , but the rest of the castle is just bare walls that can only give a hint at the size and decoration of the building. There three storeys here, and a vaulted cellar There is a gargoyle on the south side of the SW tower, as well.. Originally there would have been four round towers on the corners of the square tower house.
A defensive ditch outside the castle was discovered. It is cut into the granite bedrock. During the same excavations in the 1970s, the remains of a drawbridge were found on the south side of the castle.
page
[ 1 ] [ 2 ]