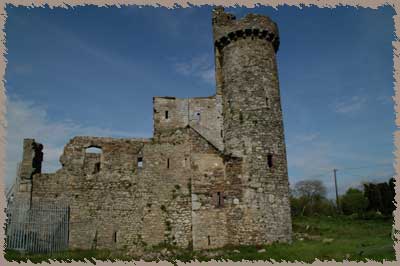 Fethard castke, an ecclesiastical reisdence
The round tower of this ruined castle is rather incongruous - it looks more like a 19th century folly than a real castle fortification - and first impressions are actually pretty accurate. The castle was altered in the 19th century and was occupied as a residence well into the 20th. It is likely that the top of the round tower was altered to look like Nenagh castle or the tower and Windsor castle, some time in the 19th century.

The castle here was probably built in the 15th century by the bishop of Ferns, on the site of a much earlier fort built in the 13th century as part the nearby church installation. This building though, was a summer residence for the bishop, and was one of six manor houses built by the dioces of Ferns.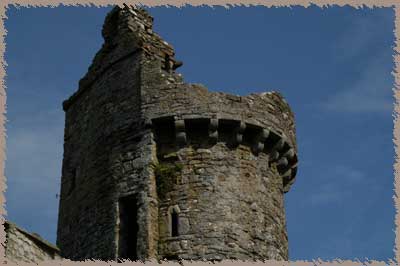 the top of the tower may be a 19th century addition
The small manor was l-shaped with a circular tower inthe SW corner. The main entrance is gone, but would have been in the north wall. The ground floor is vaulted -- but appears to be a dump or storage site of some kind - it's actualy quite hazardous to walk around the grounds, there are wood chunks and bits of wire and metal and glass all over.

the square tower range
page
[ 1 ] [ 2 ]