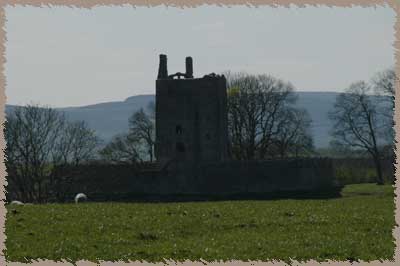 tower and bawn of Fiddaun caslte
The tower and bawn here date from the mid-16th century. It is one of four O'Shaunessay castles. The six-sided bawn wall is well preserve. It is likely that the shape of the wall is based on ths star-shaped forts that dot the coast.The tower is seven storeys, with the first and third vaulted. There are bartizans on the north and south corners. There are faint traces of an outer bawn, but only a modern gatehouse remains.

The O'Shaunnessys lbuilt the castle the famly lived here between 1574 and 1697, when the estates were confiscated by the crown, forcing the family to escape to France.