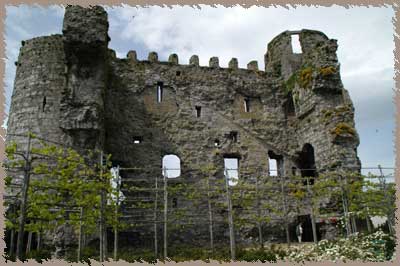 view of the western wall and orchard

Carlow castle sits at the top of Castle street in Cahir -- which we eventually found, despite driving around the town a half a dozen times. You'd think it would be obvious: find "castle street" and drive up. The Castle is on the banks of the River Barrow. on a man-made motte.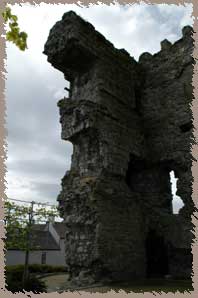 The original castle was a two storey keep, the third storey was added in the 15th century. It is almost entirely limestone.
Only the eastern half ot he castle remains. It was originally a square keep with round towers at each corner, rising three storeys. The original entry way would have been on the north side. There is an orchard planted in the space that would have been inside the castle.
The original castle was built in the town in 1208 or so, just after the town was chartered, although it isnt' mentioned until 1231. It was handed over to the crown in 1306 and then granted to Thomas Plantagenet, Earl of Norfolk. The king repossessed the castl in 1537 because it had been abandoned. In 1616 it was purchased by the O'Brien', Earl of Thomond, and eventually ceded to the Hamiltons.
In 1813, the descendents of the Hamilton family sold it to a physciian to attempted to remake the castle as a lunatic asylum. In 1814, as the doctor attempted to dynamite a passage beneath the castle, he blew up the western wall and collapsed the two eastern towers.
The castle wasn't excavated until 1996 - during which time they found traces of a timber fort built as early as 1180 by Hugh de Lacy, and that the current castle has no real foundations -- being built on just flattened ground!

view from the carpark of the other side of the wall