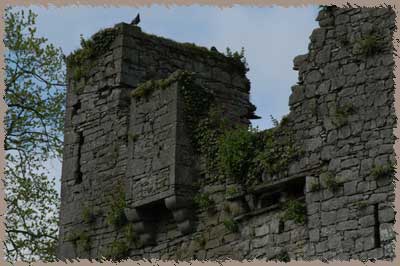 the tower house of black castle
This rather imposing ruin is also called "Black Castle" - there once was a now-vanished "white castle" across the river.

The earliest mention of a castle here is in 1180, when a fortress was built by Hugh de Lacy, although it is contradiicted by another that say John Clahull built a castle here in 1181. Foundations here date from about 1270. This towerhouse was built in the early 15th century. Most of the work here dates from a little later, and was probably built by the Earl of Kildare and added to in the 1540s. The site overlooks the River Barrow.
This is one of the earliest Norman castles in Ireland. Just the crumbled wall of the tower and some of the bawn wall remain. The remains of a Carmelite priory here, founded in 1270, are just down the road.