I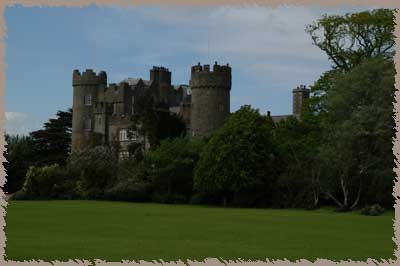 view of the 18th century round towers of Malahide

The land here originally belonged to Richard Talbot and the oldest parts of the castle date to his ownership, in 1185 or so. The Talbot family lived her from 1185 until 1976 - nearly eight centuries in the same family with only a brief period (1649-1660) when the castle was taken by the Cromwellian forces and granted to an English lord. He was promptly hanged and the castle returned to the Talbots.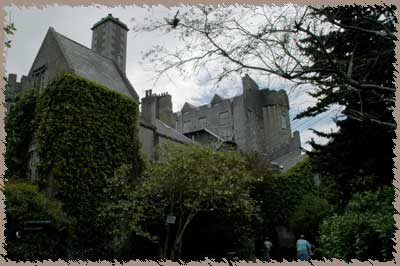 a view of the back of the castle, from the courtyard
Much of the contents of the house reflect the long family history of the Talbots - furniture and portraits of each member of the family. The main hall is nearly original - it is a fabulous example of norman architecture. The circular towers were added in 1765. .The Oak Room, on the second storey, is lit by gothic windows added in 1820 - the walls and ceiling are covered with carved oak paneling, showing biblical scenes. It's possible that the Talbots used this room as a chapel (they were Catholic until 1774).
The castle has been constantly added to and repaired, but the estate is remarkably unchanged since the 12th century. Two hundred and fifty acres of parkland and forest around the castle have walking paths and sports fields and a number of other attractions. We spend a couple of hours waking around the grounds, but passed on having tea inside since the crowds were simply overwhelming the day we went.

a spiffy red sportster parked behind the castle
The castle was sold to the Irish state in 1975, in part to pay for inheritance taxes from the sixth Baron Talbot by his daughter Rose. Much of the interior furnishings of the castle were sold at this time.
page
[ 1 ] [ 2 ]