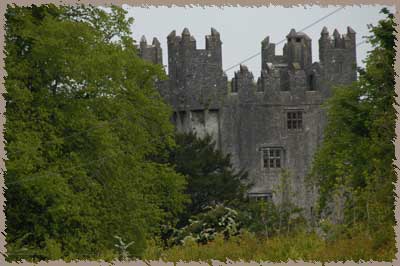 the back side of the castle
Castle Matrix initially belonged to the Desmond famil (the 9th Earl was murdered here in 1487), and it was occupied by Sir Walter Raleigh in 1580. The Southwell family added a wing to the house in 1610, and of course, Cromwell took the castle in 1651.

THe main tower is four storeys, although the building does suggest that there may have been another floor, and the east wall has six floors with very small rooms. The fanciful looking battlements were added in the 19th century and all the windows were enlarged at this point, making the castle a comfortable house.
The castle is in private hands and has been lived in since 1970 - we only passed it on the road and stopped for a quick picture - it is open for tours, however.