remains of the gatehouse of Dunseverick Castle


Only a tiny shard of one wall remains of Dunseverick Castle, situated on a stone cliff in Antrim. The original stone fort that occupied the site was attacked and destroyed by Vikings in 870, although there is mention of St. Patrick visiting the site in the 5th century. One of the royal roads from the Hill of Tara ended up at Dunsevercik, and some records cite that there was an ancient fort here founded by Sobairce in 1525 BCE to rule the Kingdom of Dalriada.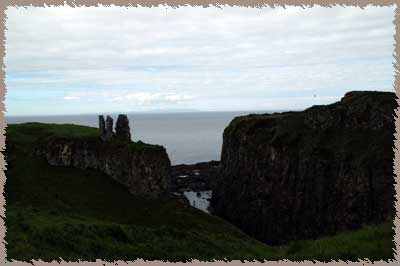 Another lovely view over the sea
The bits of ruined castle that remain probaby were built by the McDonnell family in the mid-16th century. It is very picturesque, but isn't really accessible.
The o'Cahan family held the fort from about 1000 until 1320, and then regained it in the mid 16th century. In betweentimes, it was residence to Irish kings and lords. The last O'Cahan left the castle in 1657. Cromwell destroyed the castle in the 1659s.
Today, only the bit of the ruined gatelodge remain, although there was a small tower in place until 1978, but it fell into the sea (like Dunluce did).