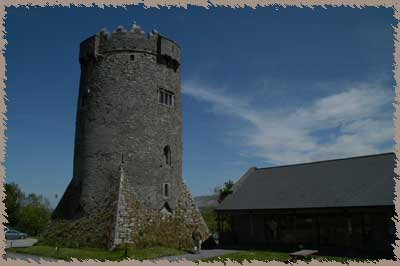 the round "rocket ship" tower of Newtown Castle

This surprising tower house is much like that at Nenagh, although this tower has a battered base - it looks like a pyarmidal base for the conical tower (one website compared it to a rocket ship). It dates from the 16th century, and was built by the O'Brien's and later passed into the O'Loughlin family, who lived here until the 19th century. The ruined tower was uninhabited until the 1990s.The tower has been recently restored, and is used as exhibition space for the art college here.
There are five storeys in the tower, with vaults over the first and third stories. Strange triangular slots under the windows in the center of each side are gunloops, and allow coverage of the squared base of the tower. The machicolations at the top have been restored . A spiral staircase inside bulges into the round room on the top storeys, since the walls are much thinner. The rooms are small - the tower is only about 9m in diameter.