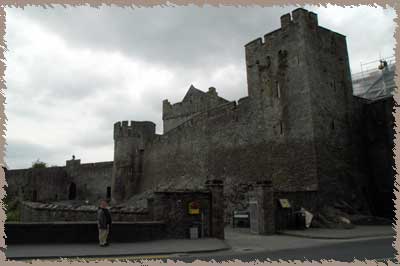 view of cahir castle from the main street
Caher is one of the largest castles in Ireland, and was at one time considered an impregnable fortress--although, like all castles, it has fallen many times. The original castle (much smaller, of course) was probably built by the O'Brien's in 1142 on what would have been a small island in the river Suir. The city grew up around it, and it now sits in the middle of the town. Every possible space on the rocky island is used.

Cahir was the seat of the Worcestesr family in the mid-13th century. It passesd to Anthony Lucy in the 14th century, although the castle had been destroyed by 1332.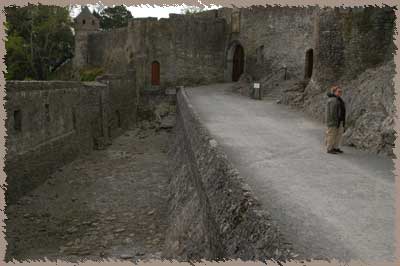 from the gatehouse to the main entrance
It was granted to James Butler, the 3rd Earl of Ormond, in 1375 by a grateful Edward III and it was gradually rebuilt throughotut the 15th and 16th centuries. The gatehouse was converted to a tower, stairs were added, and the outer ward was extended. The circular tower was added in the 17th century. The Butlers sympathized with the the Irish in the war. The castle was captured by Essex in 1599, breaching the east wall with cannonballs. Again in 1647 the castle was captured by Lord Inchiquin and then surrendered to Cromwell in 1650 without a fight.
It wasn't restored to the Cahir family until the 13th Baron began work in the 1840s to restore the castle. The parapets date from this time, and the inner walls. The Great Hall was partially rebuilt. The current castle is obviously built in two parts - the side of the castle by the street nearly 200 years older than the reamining walls. One of the interesting details of the castle is a small well-tower, spiraling down to the river.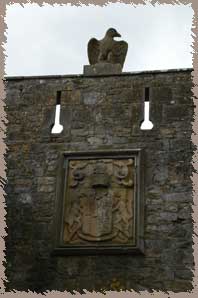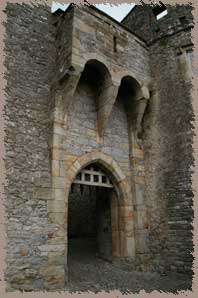 a family crest / the murder-hole over the main gate
The castle reverted to the State when the last Lord Cahir died in1961.
A guided tour is available and an audio-visual show covers most of the castle attractions and nearby buildings.