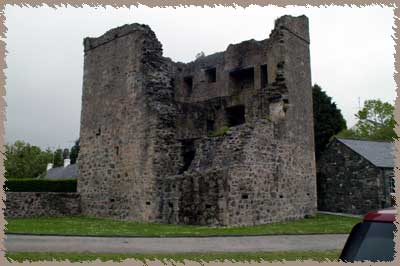 looking into the ruined corner of Quoile castle
A three storey rectangular tower, dating from the 16th century. It is in reasonable condition, having been extensively repaired in the 1980s after a collapse due to inadequate foundations. The lowest level has vaulted cellars and the top floor has wooden-framed windows.

With the corner missing, it's easy to see inside the castle (but access is prohibited) and see how thick the walls are at the ground level. Staircases within these thick wall lead to the upper floors. FIreplaces can be seen in each fo the storeys.
The West family occupied the tower until the 18th century, and was used for storage, and a barn in the years after it was abandoned. It is currently in state care.