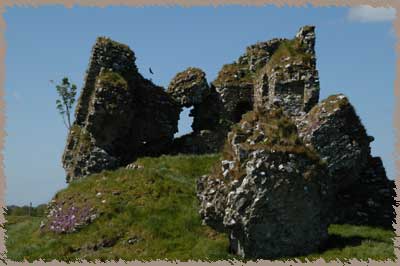 melting ruins of the tower on the small motte
Riingwork and bailey betwee the monastery and the Shannon were built by King John in 1212. There is a deep ditch and second, counter ditch around the site.

This stone tower probably replaced an earlier timber castle that was reported burned in 1135 and 1205. THe castle was sited to control access to a nearby wooden bridge. The stone hall was built on the ringeord. It has corner turrets (well, had turrets, the whole thing is falling into the motte like it's melting). The standing corner has a spiral staircase.
The couryard is dated to the 16th century, and has a number of buildings in the forecourt. It is likely that the whole castle was demolished in the 17th century. However, Mike Salter finds no evidence that it was occupied at any time after 1300.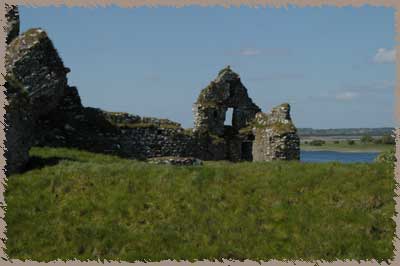 remains of the gatehouse