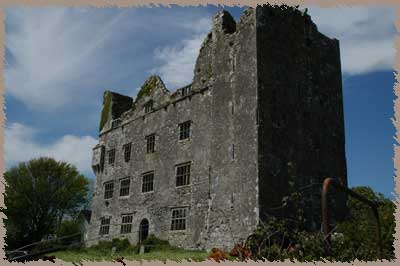 a good view of the original towerhouse at leamaneh castle
The original tower here was built around 1480. It is a nearly windowless, five-storey tower with a spiral staircase. The entrance to the tower probably had a portcullis or heavy barred door, although that is long gone. The tower is attributed to Turlough Donn, the last independent king of Ireland. The castle was built on the main road intersection in the Burren.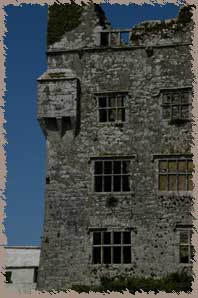 The tower surrendered to the English in 1548, which earned the current resident a new title - Earl of Thomond. It wasn't until a century later that the manor house was added to the tower. .The gabled house was very modern, with four stories and rows of mullioned windows (which remain ih the ruined walls). The mansion fell into ruin by the end of the 18th century.
The original gates to the castle were moved to Dromoland castle in 1902, and other pieces of the architecture found their way into hotels and grand houses in the Clare.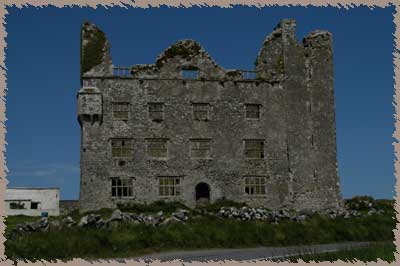 the facade of the manor house, with the tower on the right