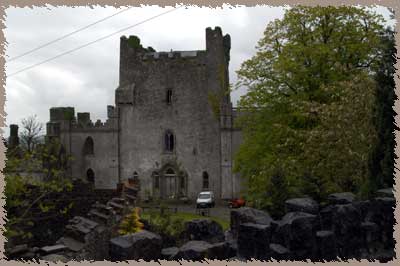 the flank facade of the 13th century castle
Leap Castle, if the google searches are to be believed, is the "most haunted castle in Ireland". It is a simple tower with added wings - with four stories and small windows. The machicolations are later additions, and the ground-level windows were also added later.
It is the "bloody chapel" that is fascinates everyone - in 1532, family struggles within the O'Carroll clan pit brother against brother (one of whom was a priest). While this brother was saying mass for the family, his brother burst into the chapel, and killed him at the altar. Stories of ghosts and spirits from this massacre haunting the castle abound. We never went inside, so I can't even report chills or icy fingers trailing along my neck, or the much-reported ghastly odor that is associated with one of the hauntings.
Excavations nearby found an oubliette (a bottle dungeon where prisoners were dropped and forgotten). There were many human bones in the bottom, along with spikes that would impale the poor victims.
The tower was built by the OCarroll family in 1250. It was originally a defensive house, against rival clans, and became the primary seat of the family. It was attacked and taken by the Earl of Kildare in 1516.
Like so many castles in Ireland, it was burned in 1558 to keep it from falling into English hands -- instead, if was retaken by the O'Carroll family and rebuilt. A wing added at this time dates to the 1570s.It was remodeled and extended again by the Derby family in the 1650s. The Darbys extended the keep, sold off much of the land around the castle to pay for the construction. This family remained in control of the castle until the 1920s (when it was burnt again in 1922).
The castle has been in private hands since 1991, and is currently being restored yet again.

the much-later gate and outer wall