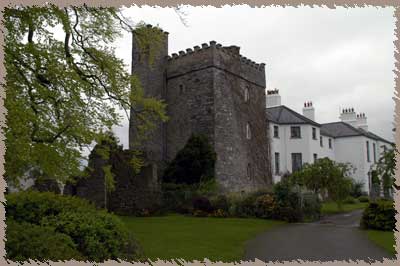 the original tower house, now part of a much larger hotel
This well maintained tower house was built in 1288. It has been restored and used as a luxury hotel since 1971. There is a tunnel from the castle to a chuch in nearby Straffan, which was discovered in 1996. The tower was inhabited by the SUttons in 1473, and was granted to John, Lord Kingston in 1666. By 1703 it passed to the Youngs, and thence to the Carncross family.

It is a simple tower with an attached square staircase tower on the SW corner. As to be expected, the windows have been enlarged and repalced in the 19th century.