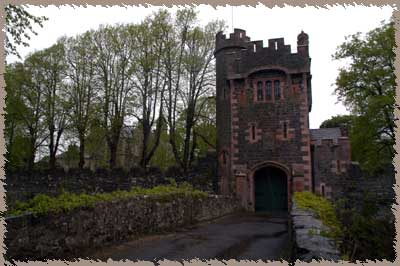 the Barbican Gatelodge (of glenarm castle), now a B&B
From the Irish Landmark Trust: "The Barbican Gate to Glenarm Castle was designed by William Vitruvius Morrison and built in 1825. Morrison, a prominent country house architect, was at the same time responsible for the remodelling of the Castle itself in the 'Tudorbethan' style. All of this work was commissioned by Edmund McDonnell and his wife, Anne Katherine McDonnell, Countess of Antrim.

Romantic in appearance and setting, and approached by a bridge over the Glenarm River, the Barbican Gate is fashioned from coursed rubble basalt with red ashlar sandstone dressings. It comprises of a three-storey main block with a taller turret staircase to the west and a lower, two-storey wing to the east. The turret staircase leads to the flat roof of the main block which affords significant views of the surrounding countryside. Internally the main block features stone-slabbed floors, and vaulted ceilings. Its setting and surroundings make it an ideal romantic retreat. "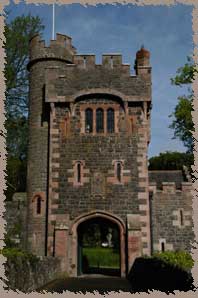 the tower and stair turret / inside the gate
The place is lovely -- we spent three days here, in our own little castle. There is a small bedroom, an absolutely enormous bathtub in the bathroom, and lovely kitchen-sitting room. Absolute peace and quiet. I wish we'd stayed longer!!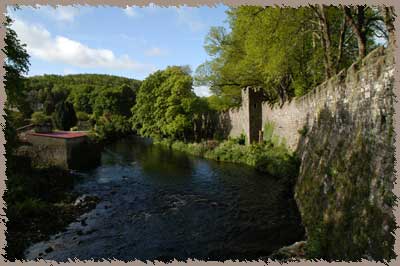 Looking down the river from the bridge
page
[ 1 ] [ 2 ]