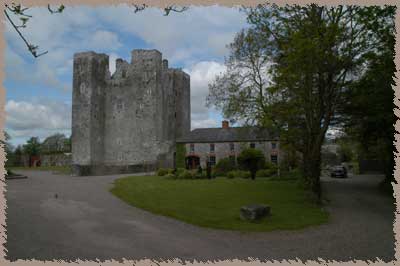 approaching barryscourt castle
This 16th century tower house is the seat of the Barry family. It has been extensively restored and furnished by Hseritage Ireland, including the large garden and orchard. The castle is open only limited hours (we arrived on a day they weren't open at all and were forced to peer through the grates and take exterior pictures only),. The castle was part of the deBarry family in the 12th century. Various castles throughout Cork belong to this powerful family and its offshoots.

The castle is a typical tower-house style in Ireland, with the main tower surroudned by additional buildings inside a courtyard. Ruins of a dining hall remain near the castle tower. The large bawn wall is roungly 34m x30m, with the tower house tiself making up the corner. The now-vanished hall would have filled the western side. More ruined buildings on the east and north side would have been farm buildings.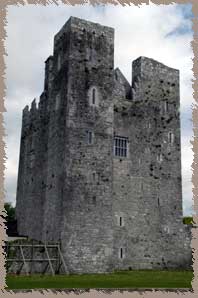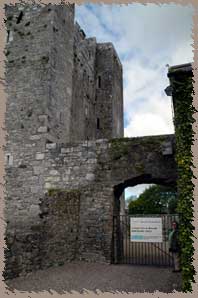 another view of the tower house and view of the main gate
The tower house is fairly large and has a typical z-plan with an added tower with rooms on the northwest corner and an attached smaller tower opposite. Staircases are not in these towers, as we've usually seen - they are in mural walls of the tower itself. Four upper levels over vaulted cellarsl The entrance has a small gunloop and murder hole, adn tehre is evidence of another entrance, further up the wall.

we can't get in! Peering through the gate to see the gardens
The site itself is very interesting - sigsn of habitation here go back over a thousand years, with the remains of a wooden watermil beside the stream dating from the 7th century.. This tower was probably built by the Barrymore branch of the family in the the 15th or 16th century. Architecturally, a date of 1550 is proposed. It was partially destroyed by the family in 1581 to prevent the English from taking them, a common practice at this time.
The castle remained the seat of the family until they moved to Castle Lyons in 1617. The tower was also briefly occupied by Sir Walter Raliegh. Lord Inchiquin took the castle in 1645. This seige - including cannonball marks from the Irish Confederate War in 1645, and the castle subsequently passed to the Coppingers. . The house next to the castle belongs to the Coppinger family and was built around 1716.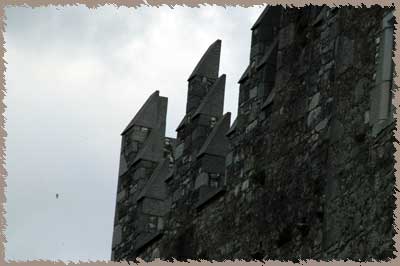 the north wall of the castle tower