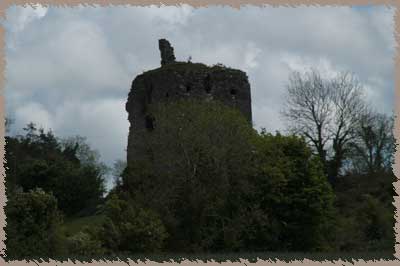 the only part standing - a tiny portion of a corner tower

The very scant remains of a small tower inside a bawn. Only a small part of the NW corner turret remains or this (likely) z-plan castle, with parts of an ajoining wal Ths building was much more complex, as shown in maps, and probably had a round turret tower on the opposite cornoer of a much larger towerhouse.
The name is a bit of a surprise to me - a "bawn" is actually the word for the surrounding wall an courtyard of a tower house or other castle form. I have to assume that this site had an alternate name that has since been lost.