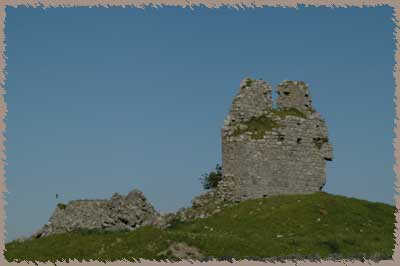 the single wall remaining of hits 13th century castle
This stronghold was the seat of the HIgh Kings of Aidhne (Ard Ri Aidhne) until 1264. It was the site of a great battle in 1225 between the Normans and the O Heynes. The irish thoroughly routed the Normans and their English allies. The present form of the castle (such as it is) dates from after that battle, on lands granted to Maurice Fitzgerald.
The scant ruins lie on the road near Clarinbridge, and are nicely labelled (although you'll need a bit of nerve to park ont the road and skip across for pictures, the traffic moves at quite a clip). By 1584, the castle was held by the Burkes.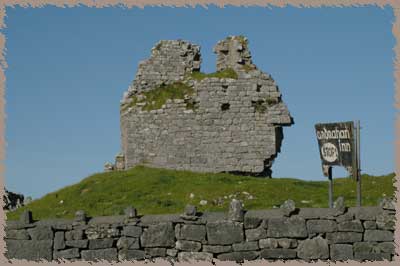 the castle is right on the road, and labelled, sort of.
It is possible to scoot over the stone wall to see the castle, although it looks to be in private hands.