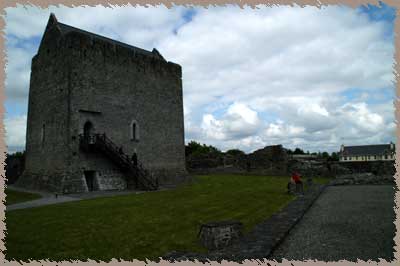 the three story keep of athenry castle, with decorated doorway
The much-restored castle in Athenry lies on the edge of town, just inside the circle of the town's walls (which exist in a few places around the town). The tower was roofless and abandoned for over 500 years, and is currently undergoing renovation.

The castle was built around 1235-1250, and included a tower house and a bawn. In 1241, the castle demesne included a Dominican Friary (which can be seen just down the road). The land was granted to Meiler de Bermingham in 1235.
The door to the tower is the original one -- and is located on the second floor of the tower. Originally, the tower was only two storys over a basement; another floor was added around 1250. The vaulted basement (which is accessible now via a doorway, but probably accessible only by trapdoor and ladder when it was built) was finished later, and the vaults themselves are newer than the tower and the door wasn't added until the 15th century.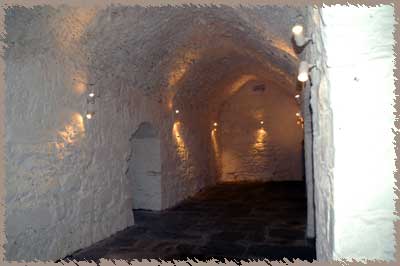 the vaulted basements, with much better lighting than the originals
From the main floor of the castle, access to the next floor was probably by a wooden staircase. The upper floor was accessible by a stone stairway in the wall. There are remarkably few windows in the castle -- none at all on the second floor) which would have made the interior pretty dark. It was probably cold, too, as there are no fireplaces anywhere in the tower. This is not unusual, actually: quite often the only heat in the castle would be a central fire on the top floor in the hall, with smoke going out a vent in the roof. However, at Athenry, this caused some problems, since the original tower was only two stories. Adding another floor simply moved the heat source up and left the bottom floors cold, dark, and probbaly damp. At least a few sources note that the de Birmingham's moved out of the tower as a residence about the time the upper story was added.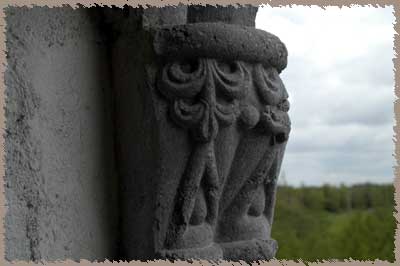 decorated capitols, with a distinctly ecclesiastical style
The entrance to the tower has a some interesting details, including a tiny little 'porch' over the main entrance, which was made of stone slabs overhanging the doorway. The windows in the original main hall are also exquisitely decorated in an Irish style that is more common in abbeys and ecclesiastical buidlings than to defensive ones. Two windows remain at the level of the main hall (the original top floor), these have the same types of decoration as the main doorway of the keep.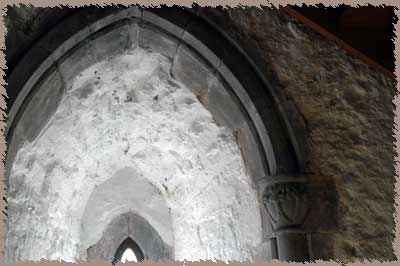 arched windows on the second floor