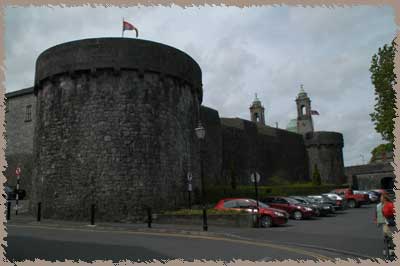 one of the drum towers of King John's stone castle, 1211.

The imposing walls of Athlone Casle (also called King John's Castle, one of at least two in Ireland with the same name) sit along the banks of the river Shannon, built there to defend the most important fording point of the river. The castle was originally a 12th century ring fort and was continually enhanced by the Anglo-normans through the 13th century.
The original wooden castle was bulit in c1120 by King Turlough O'Connor. It was built in stone by King John of England (hence the name) in the early 13th century. It was destroyed and rebuilt many times. The main 'tower" in the keep, a strange decagonal, squat tower, is a 19th century reconstruction build on the foundations of the original tower.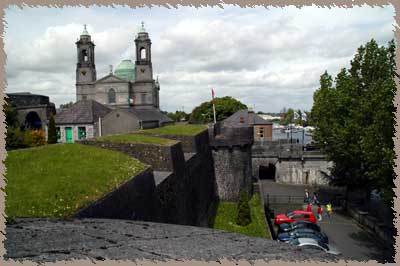 looking out over the wall from the drum tower
The enormous round drum towers at the corners were reinforced in the 19th century to hold heavy guns. The castelated walls are also later work, although the foundations are probably much older. It's possible to walk entirely around the castle ont he local streets, and the stroll along the River Shannon is quite lovely. We parked on some narrow side street and wandered around the long way before finding the entrance.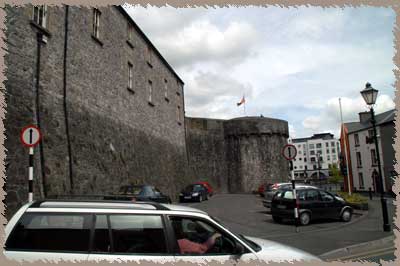 Athlone castle from Shannon-side
page
[ 1 ] [ 2 ]