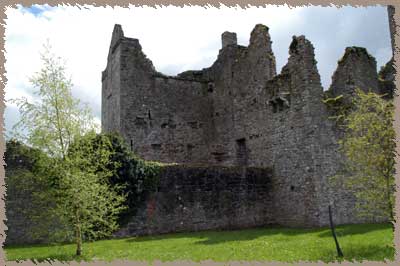 view of the original tower house and curtain wall

We had a devil of a time finding Athlumnley castle, although all the guidebooks said it was easy to find and the key was available from the nunnery up the road. Well, neither was actually true, but we did manage to get some good pictures from outside the main wall. The gates were securly locked and no one had the slightest idea what we were talkinga bout when we asked for the keys.
The main part of the castle is a four-story tower house dating from the 15th century. Tower houses were a common 'castle' form - they are in essence, fortified residences instead of truly defensive castles. The corner turrets are all quite different, and contin stairs, latrines, and several small chambers. This tower house is only part of the ruins remaining -- the rest of the building is a much-later manor house built with lovely windows and passageways.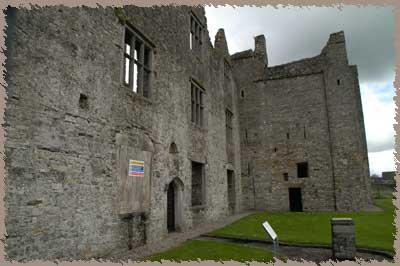 the inner wall and gabled windows of the 17th century manor house
The current entrance is on the ground floor, but the original entrance is on the western wall and has a murder hole above it. We were unable to go in (Mark took this picture by balancing precariously on a rock jutting out of the wall), but there is a barrel vault just inside the main door. The upper floors are reached via a spiral staircase in the corner. There are lovely gabled windows on the wall above the entrance, and remains of an oriel window further along the wall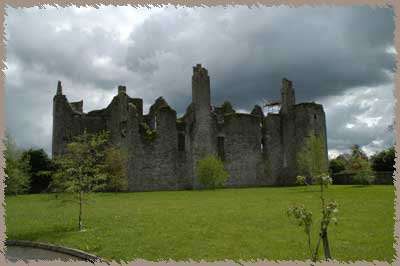 the casle from the "estate homes" that surround it
The castle is quite ruined, but the tower house and the long 17th century manor house that was bult adjoining it are visible. The castle was burned in 1649 and again in 1690 -- the last time by Sir Launcelot Dowdall, who owned it and wished to deny it to William of Orange. The story is that he lit the catle on fire, and then stood across the river all night and watched it burn. For this reason, the castle is often called Dowdall's Castle. There are 'secret' chamberes in the walls, perhaps to hide priests during the attacks on Catholics.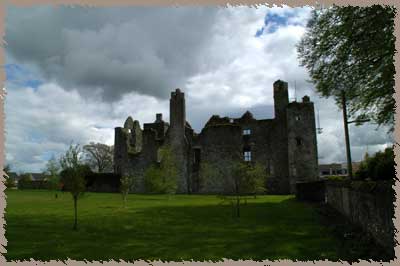 another view of athlumney castle, from withi the curtain wall