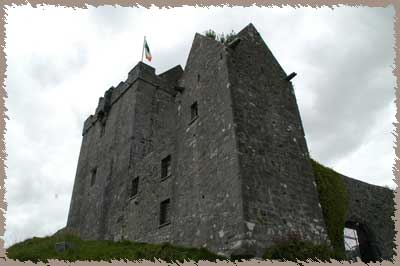 view of the 75' tower of Dunguaire castle

Sitting on a rocky promontory into Galway Bay, Dunguaire castle is a well-restored tower house and bawn. THe tower was built in 1520 by the Hynes family and it's likely that the site was an ancestral home for the family (possbly from the 7th century, if myth is to be believed). The Matin family took over the estate in the 17th century and it remained in that family until the early 20th century. Purchased by Oliver St. John Gogarty, it was restored and became a meeting place for the Celtic Revival writers- Yeats, Shaw, Synge.
In 1954, the restoration work was completed, and shortly after that it was passed to Shannon Development, who opened the castle as a tourist attraction.

the castle and walls from the road to kinvara
The main tower is 75' tall, and the surrounding walls have been carefully restored. The castle hosts medieval banquets during tourist season, and the interior is furnished and decorated for that purpose. A bit over-the-top, actually, but it's fun, nonetheless.
It's almost impossible to walk entirely around the castle- especially on a wet, raining day the grassy hill is very sliippery and neither one of us wanted to end up in the lough!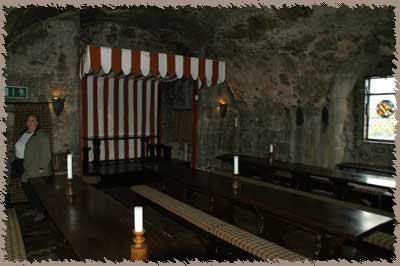 the mian banquet hall
page
[ 1 ] [ 2 ]