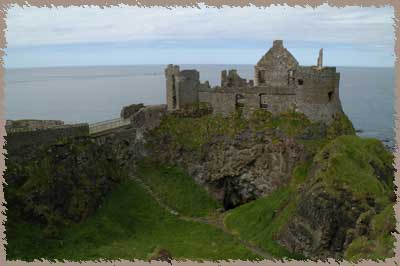 view from the shore, dunluce castle
Dunluce, sited on the rocky Antrim coast, is a very large castle - it is separated from the mainland by a short bridge, and the rocky outcropping is walled in and contains castle buildings from the Normans, Scots, English, and other builders. It is one of the most extensive ruins in Northern Ireland. The sheer cliffs on three sides (and the tiny isthmus connecting the outcropping to the shore) made this an easily defensive castle. The basalt outcropping has a natural cave just beneath the castle, large enough for boats to be hidden in.

The original castle her, likely an irish wooden fortress, predates any of the stonework, although mention of a 13th century fort built by Richard de Burgh, and later overbuilt in the 14th century by the same family. It passed to the McQuillan family by 1513, but was taken by Sorley Boy McDonnell in 1565 - the pitched battle on the marshy ground made it easy for the McDonnells - they placed their own men on the few solid hillocks of grass and let the McQuillans blunder into the bog between them. The McDonnells held the castle for another twenty years, when Queen Elizabeth ordered it taken into English hands. It eventually passed back into McDonnell hands and a luxurious manor house was built on the site. The castle became the home of the chief of the Irish Clan Macdonnel of Antrim, and also the Clan MacDonald of Dunnyveg in Scotland - the townlands around the castle were well-settled with Scots.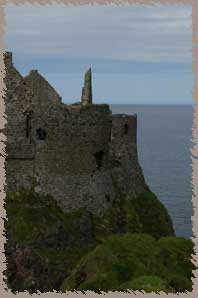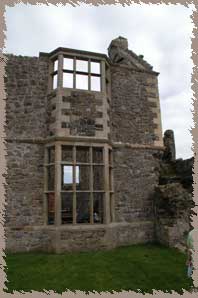 round towers on the shoreward side / the tall of the new great hall
The Earl and Countess of Antrim took residence and furnished their manor house here very opulently. Tapestries, silverwork, furniture, paintings, and other arts were brought from the royal courts in London. An inventory at the time lists many valuable items, including gold and silver. They added the very Italian-looking loggia and the gatehouse to the castle as well. The huge main hall with large bay windows in the courtyard dates from this period. One of the oddities that we noticed was the very strange pebbled floor in the main courtyard - the pattern is very striking.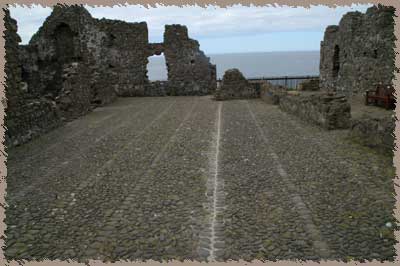 the very strange pattern of the great hall courtyard
Of course, not everything was so fabulous. During a lavish dinner party in 1639, a chunk of the castle fell into the sea, taking the kitchen and seven cooks with it. This apparently happens to cliff-side castles (and jut cliffs) with surprising regularity - and very recently, too - a few years ago part of the Cliffs of Moher fell into the sea.