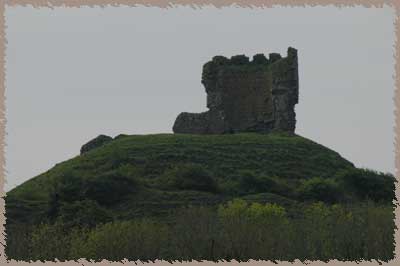 the motte and earthworks of Shanid Castle
The castle sits on a low motte, with earthwork ditches surrounding a small oval courtyard. The tower was remarkably complete until the end of the 19th century, although only the shell remains now. THe tower is multi-sided outside and round inside, it had just one one upper story over a vaulted cellar. It is a fine example of an Anglo-Norman stronghold. It is the first stronghold of the Knights of Glin (see Glin Castle).

The castle was built c1200 by Thomas Fitz-Maurice. His father was granted the elands by Richard de Clare (Strongbow) after the norman invasion in 1169. The lans were granted to THomas and he built the castle here in 1230. However, it is likely that this series of mottes and ditches were present before he added the stone tower.
The castle was very briefly the chief seat of the Desmond Fitzgeralds, although the last Earl of Desmond was murdered in 1584 and the lands were divvied up by the English. . It was captured by Hugh O'Donnell in 1601, and was inhabited until 1641. It was burned and dismantled.