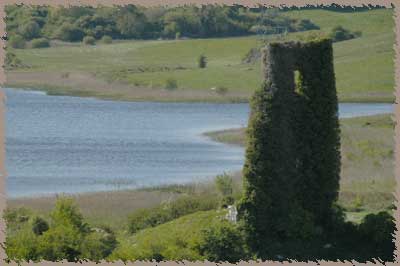 the ivy covered wall of Rath Castle
A ruined 15th century castle near Lough Rath, on the nature walk from Dysert O'Dea. Only a small fragment of the three story tower remains, nearly covered by ivy. The tower, which sits on a small motte, and the bawn extended down to the marsh beside the lough. It may have been built by the O'Briens.

You can see the castle on the nature/archeaology walk from Dysert O'Dea, although we didn't see a way to get down to the castle that didn't involve wading in the marsh.