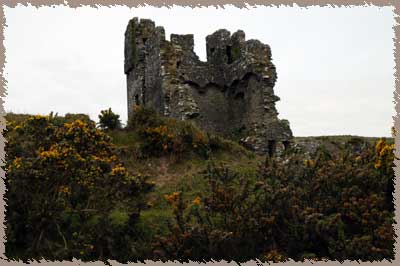 the shell of Rathsinnane castle
This castle seems to be listed as Rathinane, Rathnane, Rahsinnane, and Rathsinane. It is on private land, ask at the house for access.

The tower was built by the Knight of Kerry, and it was built inside a rather massive ringfort - the traces of which can still be seen surrounding the castle like a dry moat. The tower was originally three stories, but only one end remains. Another wing of the castle was destroyed along with the eastern part of the tower. Mural passages and staircases can be seen in the thick wall. Traces of a vaulted ceiling can be seen on the second storey.
Traces inside show signs of the scaffodling that was used to build vaults - a wickerwork arch was built, and the stones laid across it over a layer of plaster/mortar- it's quite interesting.

looking out over the bawn wall from the castle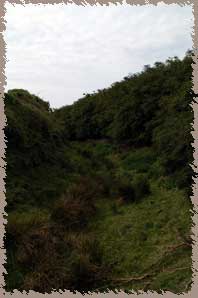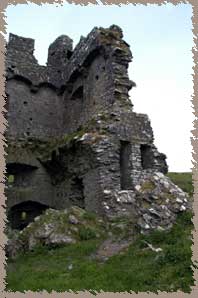 the steep ramparts / mural passages in the wall