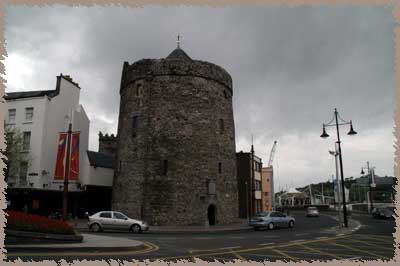 the stout tower on the quay in waterford
Waterford was a walled town - first by the Danes and then by the Irish -- and this round tower is one of the remaining pieces of the old city defenses. The city gates are gone, and other towers (Turgesius Castle, Keyser's Castle,, St. Martin's Castle) are also gone. This round tower is all that remains. It is being used as a museum by the city, although in its history is has been a prison and a mint. It is named after its most famous prisoner - the Viking ruler of the city in 1170, Ragnall MacGillemaire.

IN the 13th century, King John visited the city, and ordered new coins to be minted here - the tower was put into use as a mint (the museum displays here talk about how this works). It was used as a mint again in 1463. In the 17tha nd 18th centuries, it was used as a munitions storehouse, and it was again a prison in the early 19th century. For a number of years it was the home of the Constable of Waterford.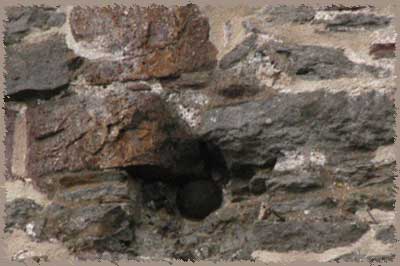 the cannonball, still embedded in the wall
The foundations here probably belong to a viking fort called Dundory, built in the 10th century. It sits on high ground between the Suir and another inlet, allowing Viking longboats to moor here. Throughout most of its history, the tower would have been surrounded by water on both sides.
The current tower probably dates to the 13th century, with additions in the 15th. IT is the oldest civic building in the city (indeed, in all of Ireland). It was recently renovated -- although they have left the canon ball in the wall that was embedded here during one of the many sieges. (I believe during the attack by Perkin Warbeck, the pretender to the throne).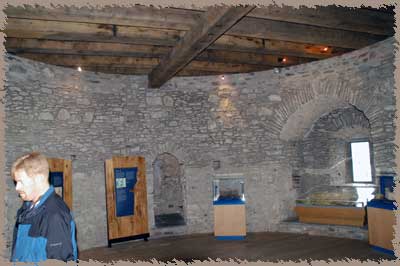 one of the finished floors inside, with exhibits from the Waterford civic museum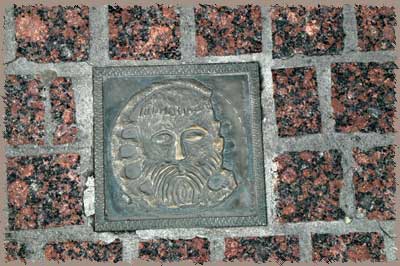 a seal in the paving