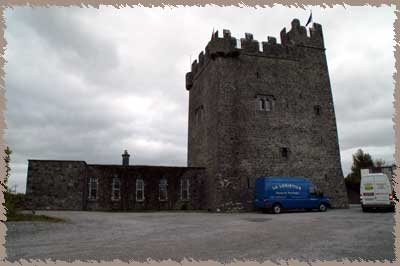 the tower house and modern extension of Tyrellspass castle

According to Mike Salter, this castle was dated using dendochronological evidence from a bean in the main tower - to roughly 1410.Some of the beans and the spiral staircase date from the 13th century. The inhabitants of the castle were executed during the Cromwellian invasion in 1650. Is it he only castle remaining from the Tyrell family.
It was restored in the 1980s by Laurence Ginnel. Pieces of the castle were taken from other sites nearby - a couple of windows from a church in Kilbeggan and others from the Syonan Castle. The circular tower is from the original bawn, not attached to the tower by a newer residential wing.
It is currently a hotel and restaurant featuring medieval banquets.