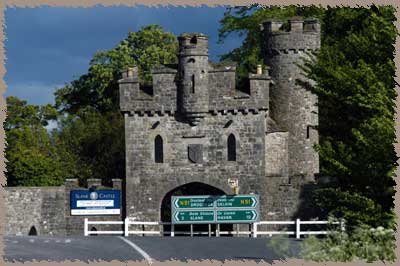 the fanficul gatehouse at Slane Castle.
THIS is all I got to see at Slane Castle. It wasn't open. I was really excited to see the castle here -- and..nada IT's a great castellated manor house with bits and pieces of older fortresses incorporated into the estate.

The current incarnation dates from 1785. Earlier castles here belonged to the Conynghams (a Scottish family who settled in Ireland in 1611) and the estate was purchased by the family in 1701. THe current owner of the castle (Lord Henry Mountcharles) is a Conyngham descendent - he changed his name for political reasons in 1992).
The castle was seriously damaged in a fire in 1991 and reopened in 2001 after extensive restorations. Concerts are held here nearly every summer - U2, Red Hot Chili Peppers, and other top bands have performed here. It was hard to google for any details about the castle, since every single link that came up had some reference to concerts and my google-fu failed to filter them all out.
.