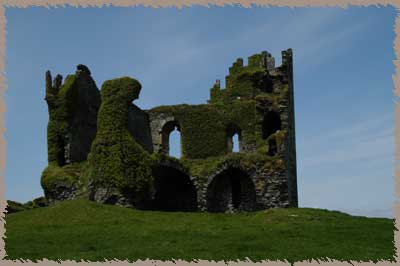 view into the vaulted chambers of Ballycarbury, from the beach

Ballycarbury (or Ballycarbery) castle sits on a huge hill just on the beach, surrounded by triple-strand barbed wire. We figured this meant it was off-limits, as there was no gate and no paths to the castle. It's easy to see most of the castle from the edge of the field, though, so we probably didn't miss much except me freaking out while Mark walked on the rubble walls, like he certainly would have done. He has a tendency to wander over ruins without paying much attention to whether there is a vaulted cellar beneath the little fringe of grass.
It is fairly obvious that the hill surrounding the castle was an original motte, and there are even remains of a bawn wall to the northwest and along the beach. It sits on the bank of the Valencia River. There are remains of a gate on the north side.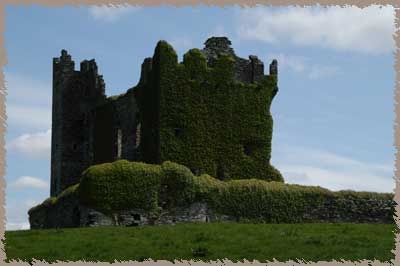 remains of the bawn wall surrounding the castle
The main castle is a huge rectangular tower, with a projecting tower to the northeast. Based on the vaulted remains that are still visible, there would have been three or more rectangular rooms on the ground floor, and vaulted rooms beneath them. Entrance to each chamber is blocked by a doorway with a big slot for a drawbar.
Mural chambers and passageways in the thick walls are also visible on the second story, including a small chamber in a protruding corner bartizan. There were four storys originally, athough only the ruined pieces of two or maybe three are visible. The upper floor is a great hall, which has a much-later dividing wall runnign across it. Lofts on the west end of the building had no access but trapdoors in the floor, rpobably reached by ladders.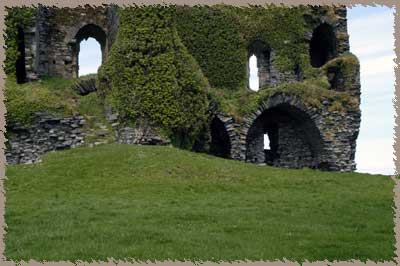 the main floor is divided into three equal vaults with a hall above
page
[ 1 ] [ 2 ]