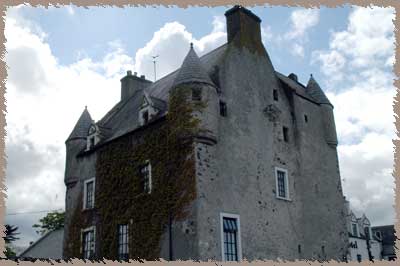 much-renovated tower house in Ballygally
The castle is currently being used as hotel, we stopped here on our way to The Barbican, and enjoyed the lovely views and this cool-looking tower.

The castle was built by James Shaw in 1625. It is a Scottish design, with round bartizans and distinctive end-gables. There are two stories plus an attic over the vaulted cellars, including two bedrooms on the second floor. The windows have all been enlarged by modern users. It si owned by the Hastings Hotel Group.
There are (as usual) several reputedly haunted rooms in the hotel - most notably Lady Isobel Shaw who knocks on rooms andthen disppears. She was locked in her room and starved by her husband, and killed herself by leaping from the window, so her harmless pranks seem pretty tame, according to guests.