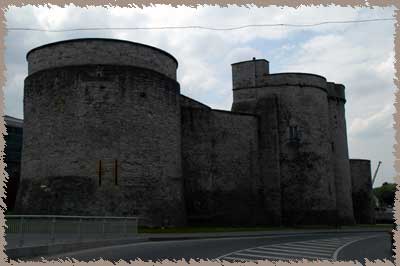 the drum towers, from the main road in Limerick
The great castle here in Limerick (known as Limerick Castle and King John's Castle) was the main seat of the O'Brien family. The earliest fortifications on this site along the Shannon River are found under the courtyard, but these were built over by King John in 1210-1216. There are huge circular drum towers on the town-facing side of the castle, and round towers on each of the corners. The towers are lowe than the originals - they were lowered and reinforced to carry cannon emplacements.

A modern museum has been inserted into the courtyard, replacing an angled bastion against the original castle wall. While I personally think the whole thing is a blight, the excavation of the foundations did reveal an early Viking settlement within the courtyard. It is likely that the early stronghold was built by the king Thormoder Helgason, in about 922. It served as a base for raids along the Shannon river, and the Vikings from Limerick were finally defeated by the Vikings settled in Dublin. Power shifted back and forth between the two groups until the Normans arrived in Ireland in 1172.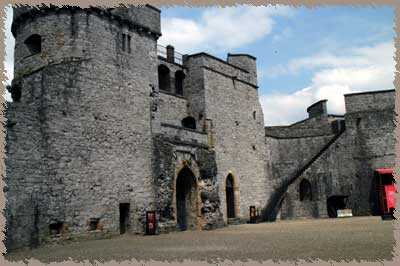 the inner courtyard and main entrance
The O'Briens burned the city to the ground in 1174 to prevent it falling into the hands of the normans, but it was captured anyway and the current castle was commissioned. It was besieged many times during its history, and resisted most attempts (except the undermining of the walls in 1641). Parts of the walls were pulled down afterwards. Sieges in 1690-1 by the Williamites led to the famous Treaty of Limerick and the stone upon which it was signed stands on the far shore of the river.
The castle sites on the west side of the original city of Limerick, which was a walled town in the 13th century. The original city (Englishtown) was inside the walls, and it wasn't until later that the suburbs (Irishtown) were also walled in with a separate section. It wasn't until 1760 that the city defences were dismantled.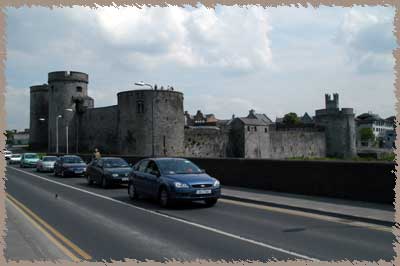 looking back at the corner towers and walls