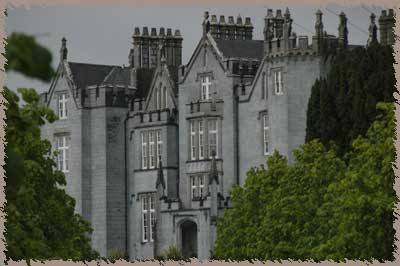 the gray stone facade of the castle
As of Nov 2008, Kinnitty Castle was embroiled in a bitter legal dispute over foreclosure and forced auction of the properly. Check the main castle website for the latest news. It look like the castle is on the market. The hotel closed in 2008.

While once again not a "castle", but instead a manor house, Kinnitty is the site of earlier castles and has a long history. Nearby is a neolithic site near Lough Boora, which is possibly the oldest habitation site in Ireland, dating from 6500 BCE or so. The site of the current mansion is reputed to a druidic ceremonial mound, and later a monastery was erected on the site. St. Finnian founded the monastery here, part of the group that also includes Clonmacnoise. The high cross from this monastery remains on the grounds.
A stone castle and later Augustinian monastery were built on the site by the Normans, and some early remains can be seen in the walls of the house. It is likely that this early castle was built by the O'Carrolls. They built the "new" castle in 1630 on the remains of the norman foundations. The land was confiscated in 1641 and eventually granted to an English colonel (Winter) for his service.
His family sold the castle in 1764 to the Bernard family, and the castle was remained to Castle Bernard for a time. It was vastly expended and repaired in 1811. The neo-gothic exterior dates from this period.
The castle burned in 1922 and was rebuilt in 1928 by the Bernard family, who remained in the house until 1946. It was eventually sold to the state in 1851 for care. The latest owners, the Ryans, purchasee the castle and turned it into a hotel in1994 - it has since closed.