the enormous tower house of Bunratty

Thomas de Clare was granted Bunratty in 1277, and he replaced an old timber and earth castle with a new stone castle. It was burnt by 1306. When Thomas was killed (at Dysert O'day), his wife burned the castle and sailed to England. Supporters of the Earl of Desmond took Bunratty and refortified the site, but it was captured and destroyed again in 1355. The castle remained in the hands of O'Briens from the 15th century through the beginning of the 18th. In 1543, Murrough O'Brien was made Earl of Thomond and Bunratty became a fine home well known for its decoration and lands.
The 6th earl surrendered the castle to parliamentary forces and afterwards, from 1722 until the 19th century, the castle was inhabited by the Stoddard family. They left the castle in 1804 and allowed it to fall to ruin. The family moved to a nearby mansion and left the castle open to the public.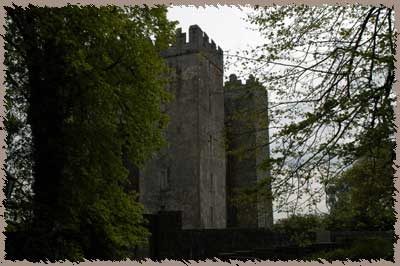 another view of the tower fromthe outer wall
The castle was restored by Lord Gort in the 1950s and it was developed as the cornerstone of a cultural park representing houses and cottages throughout Irish history.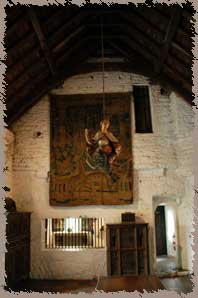 The tower is very large and complex, and the oldest parts of the tower (the main block base story) may date all the way back to 1278. The main block is faced on each corner with large square towers, but these are clearly later later additions. Two of the towers are joined in a huge archway over the main entrance.

The castle is entered via a drawbridge high up on the wall. The rooms inside are bright - with multi-light windows added later, and the third-floor main hall is heated by a central hearth.

page
[ 1 ] [ 2 ] [ 3 ]
[ 4 ] [ 5 ] [ 6 ]