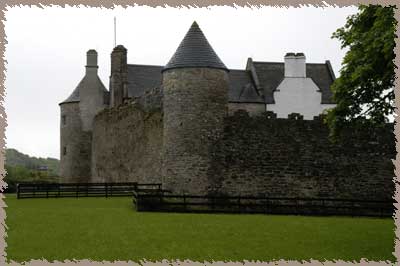 view of the round tower from the bawn
The castle here belonged to Brian O'Rourke in 1588, but it has been extended and remodeled often since. THe current building is a plantation era castle, dominated by the three-story manor hours inside the original bawn. The earlier castle was scavenged for stones for the new building.

There are a number of buildings incorporated into this castle, adding on to the original tower house - a large bawn wall, a round tower on the northern corner, and a pepperpot turret on the south east corner (added in the 17th century. The castle originally had a dry moat running around the wall, but relied on the lough for protection on the fourth side - the water level was higher in the 17th century, and a sallyport and boat dock can be found near the water.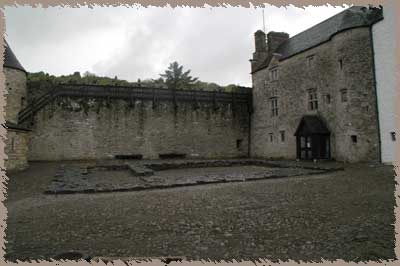 the paved courtyard inside, with foundations of a ruined house visible
By 1620 the castle was given to Robert Parke, who added a three storey house with many windows that incorporated the round tower and the gatehouse. At that time, the castle was known as "Newtown" castle (dozens upon dozens of castles are "new town castles" to differentiate them from the original, older castles in the town that was destroyed or abandoned for the "new" work.) This castle was captured by the Catholics and then surrendered to Cromwell's forces in 1652. It eventually returned to the Parke family, as the last person to live here was a grandson of Robert Parke.
Recent excavations discovered the foundations of a 16th century tower. They have also restored the interior of the castle (no pictures allowed) and added in new windows and oak staircases and roof beams. The interior of the manor house is very comfortable.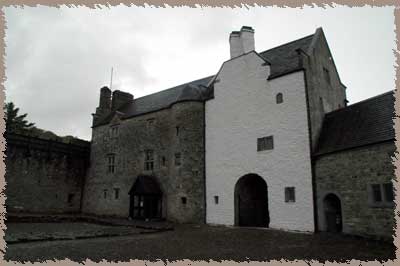 the whitewashed walls of the main tower with the attached manor house